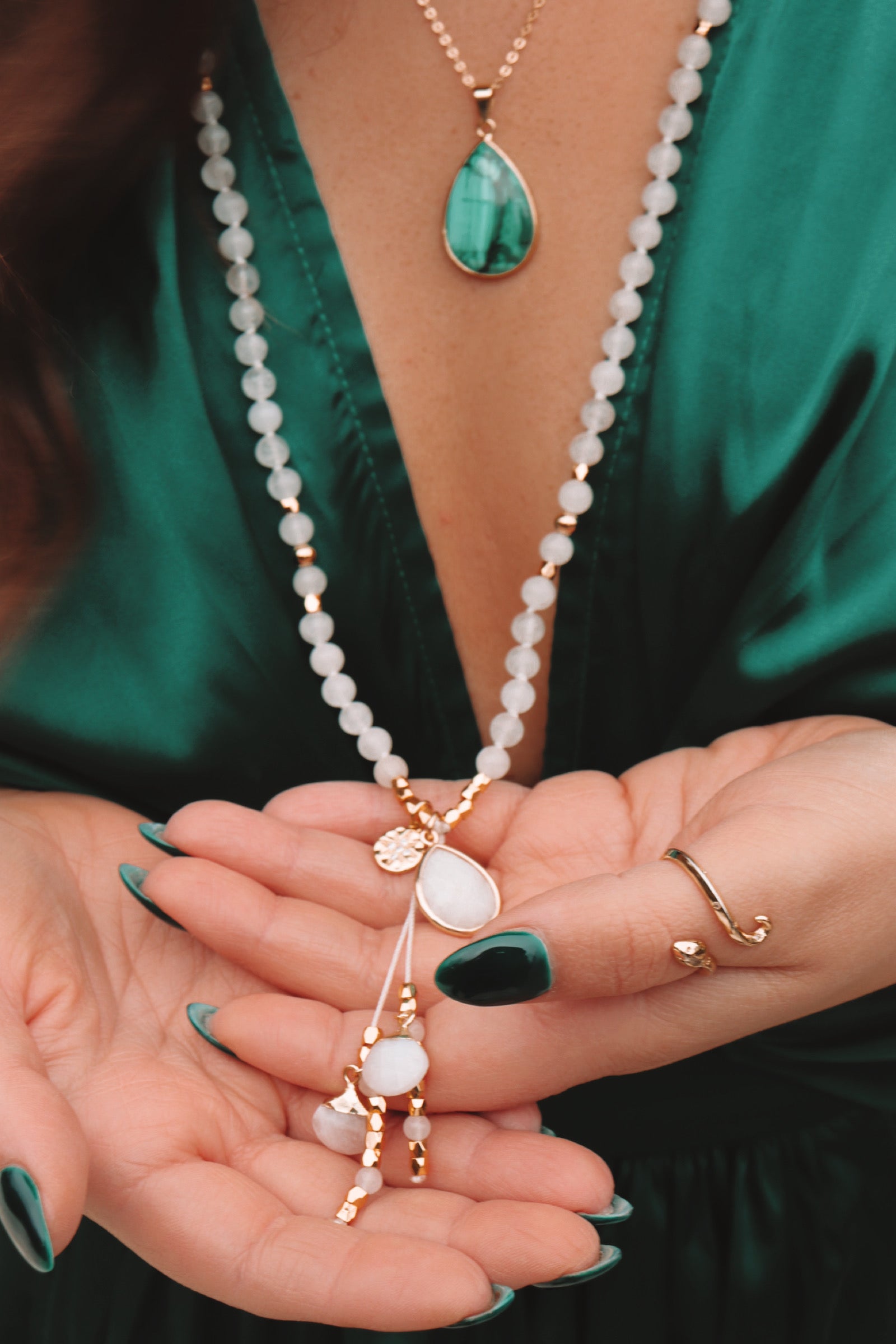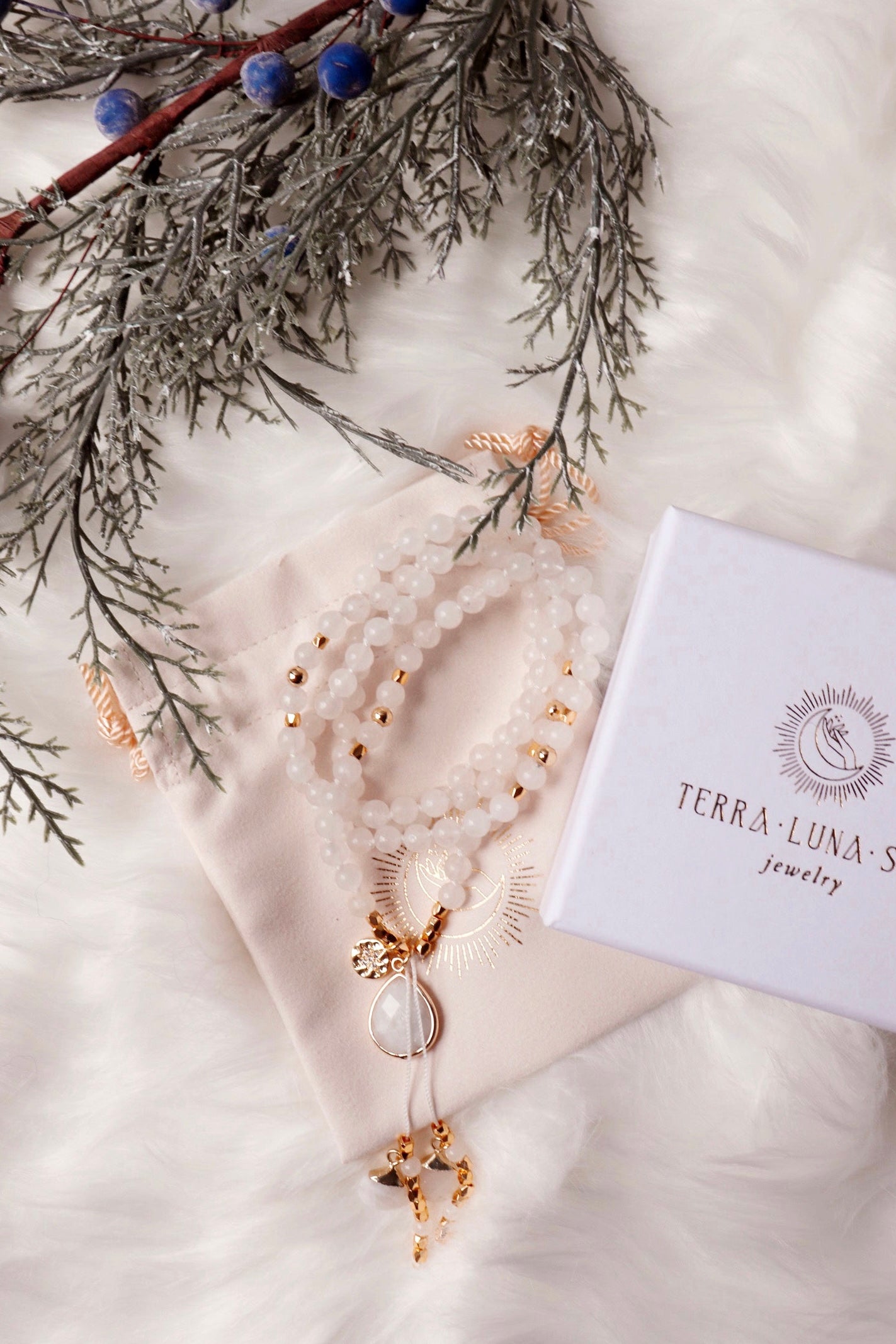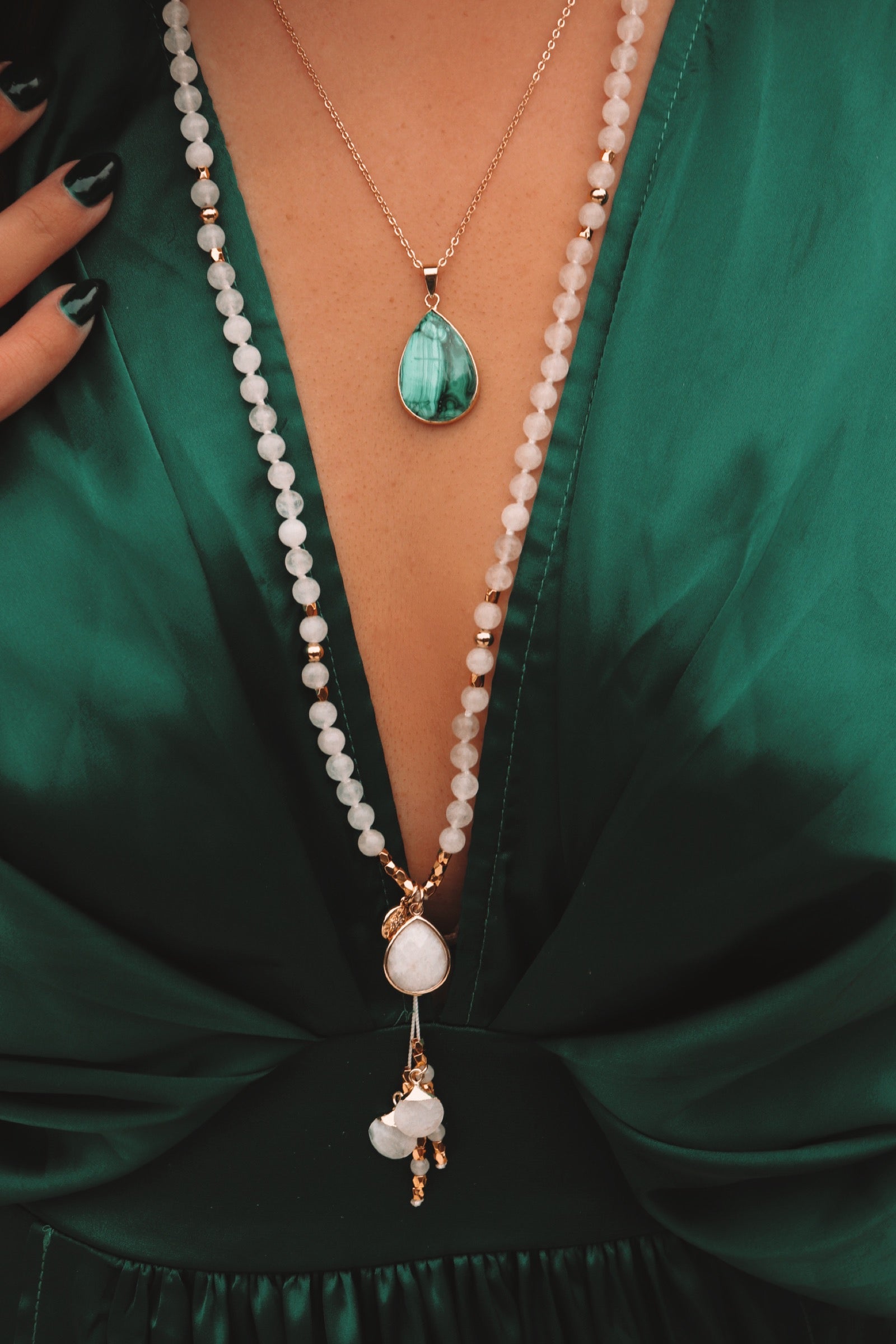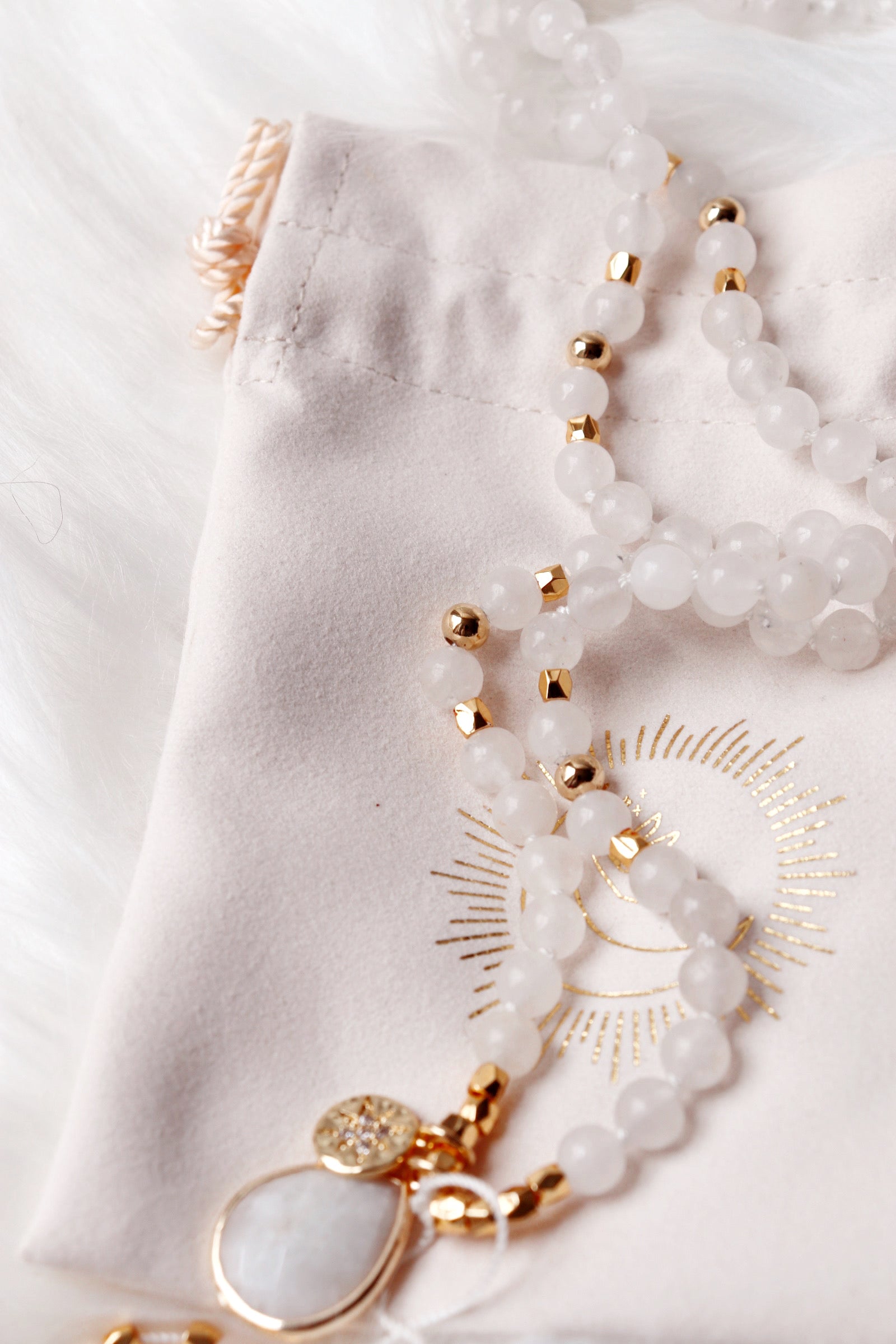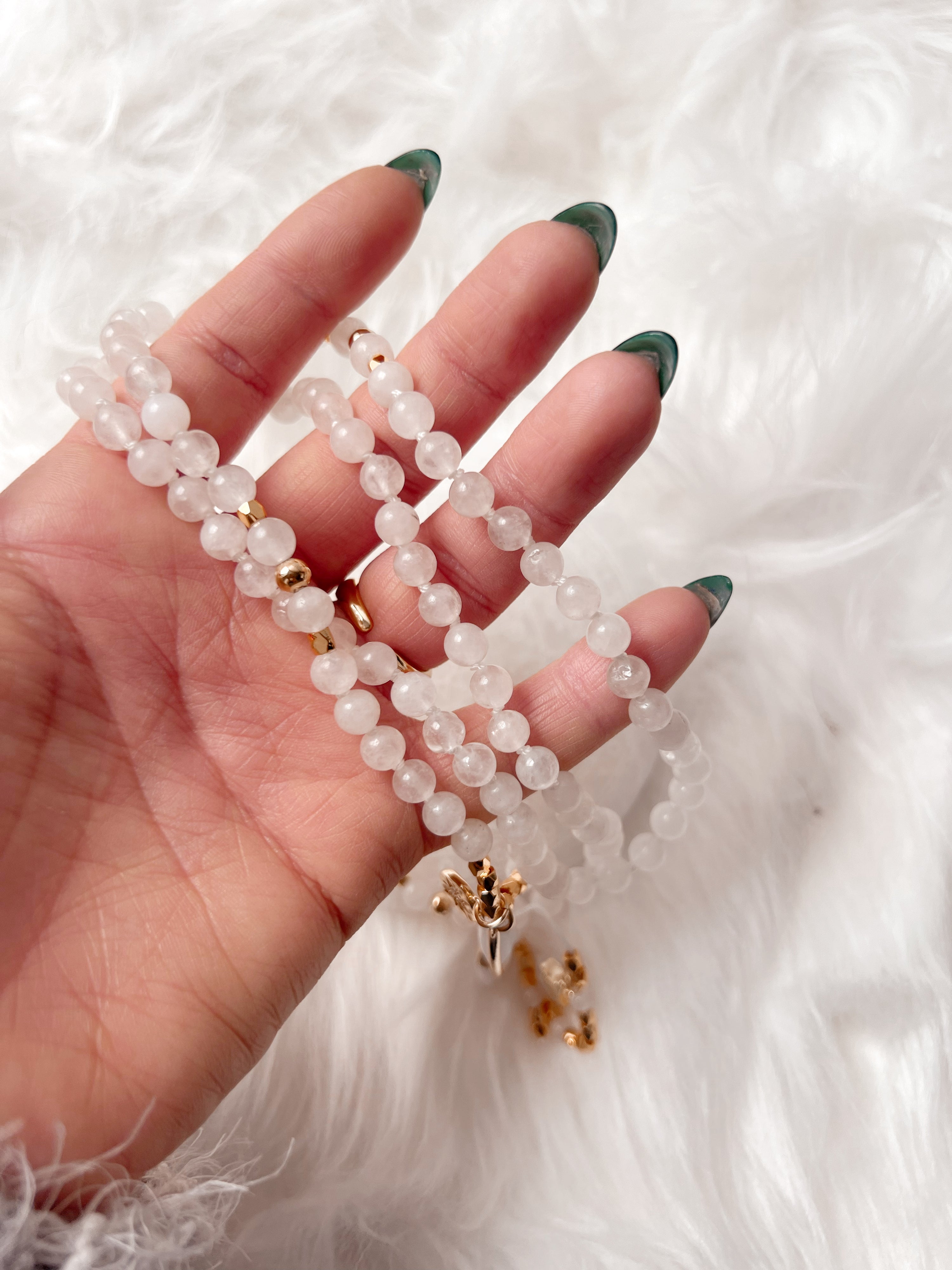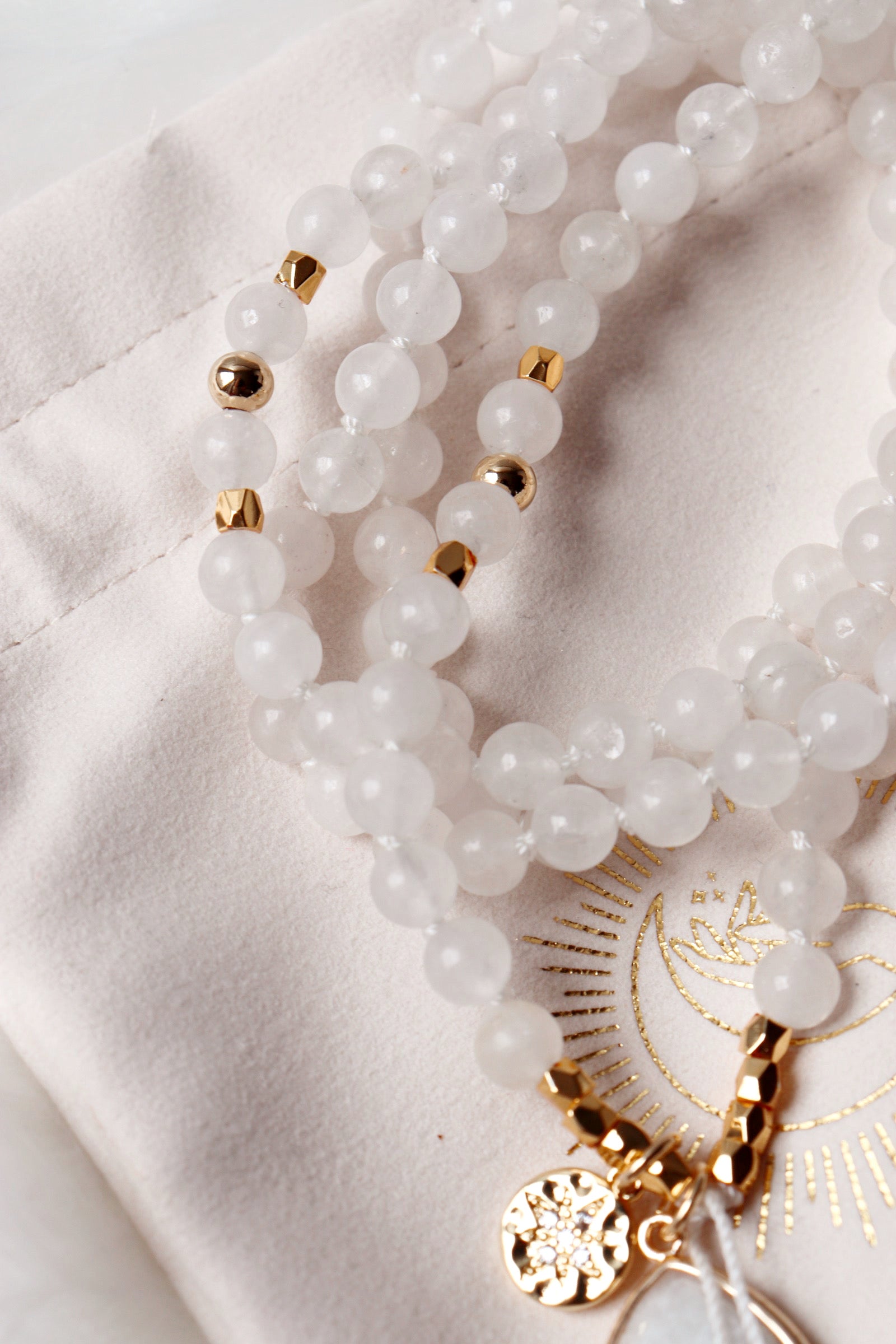 Moon goddess | moonstone mala necklace
Moon goddess mala necklace
illuminated
even in the darkest night
with divine purpose.
-Britt Mchugh
Adorn with our beautiful moon goddess mala to soften into your inner feminine energy, create a beautiful new chapter and to inspire creativity and trust in your intuition.
_____________________________________
What are mala necklaces?
Our moon goddess mala necklace features 108 beautiful natural moonstone beads and is adorned with a moonstone bezel charm and moonstone dangle charms.
Malas are a beautiful way to deepen your spiritual practice and rituals. Hold the beads and connect to their energy during meditation, future visualizing or setting new intentions.
Wear to keep your intentions and manifestations close to your heart and to take a sacred pause in your day to re-center your energy.
_____________________________________
Moonstone symbolism
new beginnings | divine feminine | intuition
If you feel drawn to moonstone, it is a beautiful sign that new chapters are ready to open for you. Moonstone is known as the stone of "new beginnings" and can be worked with when gracefully starting a new path or releasing old identities.
Moonstone is also the crystal of the divine feminine- she symbolizes our connection to the moon and the natural rhythms of life. Her energy can inspire softness, balance and a healing energy even when we are surrounded by chaos.
Because of her influence from the divine feminine, she also inspires trust in our intuition. There is a beauty and softness in surrendering to the unknown, releasing control and allowing our life path to unfold naturally. Trust your intuition to lead the way. 
Moonstone affirmation : I surrender to the natural rhythms of life and allow my new beginnings to unfold.
_____________________________________
Features: 
108 genuine moonstone mala beads
Moonstone bezel charms with two moonstone charms adorned on each tie.
Mala length: 30 inches, length with end ties: 36 inches
gold beads and celestial star charm
Comes with a suede pouch for storing when not in use and a gift box
Unless otherwise noted, all of our jewelry features 18K gold-plated brass. This material is extremely tarnish-resistant and hypo-allergenic.
Moon goddess | moonstone mala necklace
Need an additional gift box?
Every order will include a gift box, but to lower shipping costs and offer free shipping, we combine a few pieces into each gift box.

if you need an additional gift box in your order for multiple gifts, please click here
FAQ
Are these genuine crystals?
Yes. Crystals are our love language and we only source the highest-quality crystals and gemstones for our jewelry. Browse the crystal properties listed on each product to learn more about each stone.
What materials do you use?
All of our jewelry incorporates high-quality and tarnish-resistant materials. We use either 14k gold-plated brass or gold fill in our designs depending on the piece (both hypo-allergenic)
Do you accept returns?
Yes, we always want you to be satisfied with your purchase 💗 Please contact us within 30 days of delivery to return + receive a full refund to your original payment method.
How should I take care of my jewelry?
All of our jewels incorporate high-quality tarnish-resistant materials. Store your jewelry in the included suede pouch when not wearing + remove when using lotion and cleaning products to keep them looking sparkly and new.
Shipping
Fast shipping
All our jewels are made + shipped from our Minnesota studio with love. Most orders ship within 1-2 business days and you will receive tracking as soon as they leave our studio.
Gift packaging
Each order includes a gift box and signature suede pouch to store your jewelry. If you need to add an additional gift box, click here.
Get in touch
Have any other questions? We'd love to chat- please send us a message here and we will get back to you right away.
About Terra Luna Sol
High-vibrational
Crystals and symbolic jewelry designed to bring magical energy to your day. All jewelry is energetically cleansed in our quartz sound bowl prior to shipping and sent with love.
Made with intention
Sacred jewels made in ritual with you in mind. All jewelry is made + shipped from our Minnesota studio. Crafted with love and positive intention.
ritual experience
We believe in the magic of ritual. All of our jewelry is shipped with a gift box, suede pouch and free gift to make your unboxing ritual magical.